Famous Rugby Players
Brian O'Driscoll
Brian Gerard O'Driscoll (born 21 January 1979) is a former Irish professional rugby union player. He played at outside centre for the Irish provincial team Leinster and for Ireland. He captained Ireland from 2003 until 2012, and captained the British and Irish Lions for their 2005 tour of New Zealand. He is regarded by critics as one of the greatest rugby players of all time. O'Driscoll is the fourth most-capped player in rugby union history, having played 141 test matches: 133 for Ireland (83 as captain), and 8 for the British and Irish Lions. He scored 46 tries for Ireland and 1 try for the Lions in 2001, making him the highest try scorer of all time in Irish Rugby. He is the 8th-highest try scorer in international rugby union history, and the highest scoring centre of all time. O'Driscoll holds the Six Nations record for most tries scored with 26. He has scored the most Heineken Cup tries (30) by an Irishman. O'Driscoll was chosen as Player of the Tournament in the 2006, 2007 and 2009 Six Nations Championships. He was inducted into the World Rugby Hall of Fame on 17 November 2016 at the opening ceremony for the Hall's first location in Rugby, Warwickshire. O'Driscoll was involved in Irish Rugby's unsuccessful bid to hold the 2023 World Cup. He now works as a rugby analyst for BT Sport and ITV Sport in the United Kingdom.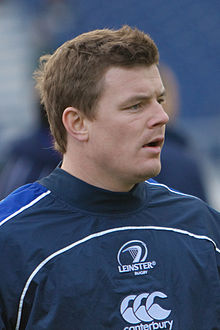 James Haskell
James Haskell (born 2 April 1985) is a former rugby union player who played for Wasps RFC and Northampton Saints in the Aviva Premiership, and internationally for England. In August 2019 he announced he would become a professional mixed martial artist and is currently signed to Bellator MMA, where he is to compete in their Heavyweight division. In November 2019, it was announced that Haskell would be participating in the nineteenth series of I'm a Celebrity Get Me Out of Here! Haskell was born in Windsor, Berkshire, and played for Maidenhead Rugby Club prior to joining (Wasps RFC), where he was part of the highly successful Colts set up. He was a replacement as Wasps won the 2007 Heineken Cup Final. It was announced on 17 February 2009 that Haskell would join Top 14 side Stade Francais at the end of the 2008–09 season. The back-rower announced at the end of the 2010–11 season that he had been released from his contract at Stade Francais, and would instead be rejoining Wasps at the start of the 2012–13 season. During the season after the World Cup, he would play in Japan for the Rams, before seeking a Super Rugby contract for the rest of the season. In 2011, Haskell agreed to join the Highlanders in Super Rugby, saying he has always wanted to play in new environments and to "improve and become a better player for England". While there, Haskell was competing for the Flanker position with future Scotland international, John Hardie. In January 2018 it was announced he would leave Wasps at the end of the 2017-2018 Aviva Premiership season. On 7 May 2019 Haskell announced his retirement from professional rugby via an Instagram post. Haskell represented England at under-17, 18 and under-19 levels as well as playing for England Sevens. He also played for Wales at under-18 level, qualifying thanks to his Welsh mother, and is also qualified to play for Ireland. In the 2007 Six Nations, Haskell was called into the starting line-up for the final game of the tournament for England against Wales at the Millennium Stadium in Cardiff, where he was part of a back row that was for the first time provided by one club - Joe Worsley and Tom Rees were the other players from Wasps. He just missed out on selection for the 2007 Rugby World Cup for England, despite spending the summer in their training camp. He played a prominent role in the England team in the 2008 Six Nations. Haskell appeared in both tests of the 2008 summer tour of New Zealand.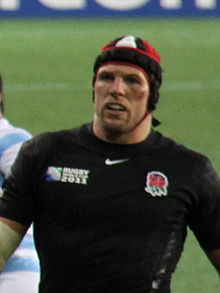 Danny Care
Daniel Stuart Care (born 2 January 1987) is an English rugby union player who plays for Harlequins in the Premiership as a scrum-half. He made his debut for England in 2008 and has won 84 caps. He previously played for England in several youth age groups as well as England Sevens and England Saxons.Care was born in Leeds, West Yorkshire, England. He first played rugby union at age 6 with his local club in Leeds, West Park Bramhope RUFC (now called West Park Leeds RUFC), although his first love was football. At age 11 he was invited to join the Academy at Sheffield Wednesday Football Club which meant giving up club rugby although he was able to continue playing the game at Prince Henry's Grammar School in Otley. He helped Prince Henry's win the Under-13 Yorkshire Cup in 2000 but he missed almost all of the next season recovering from a broken leg sustained in a school game. The following season he was forced to choose between football and rugby union and he asked Sheffield Wednesday to release him from his Academy contract so that he could concentrate on rugby and by the end of the season he had been selected for Yorkshire Schools' Under-15's. This was his first taste of representative rugby which included a man-of-the-match performance in the Roses game against Lancashire at Pontefract. In May 2002 he was part of the West Yorkshire team that won the inaugural Under-15 National 10-a-side Festival with the final being played in the Commonwealth Games stadium in Manchester. Further honours followed next season with selection for Yorkshire and the North of England before making his debut for England Schools' Under-16s against Wales at Neath in April 2003. By now Care had resumed club rugby with [Otley R.U.F.C.|Otley]] and the season also brought another Yorkshire Cup success at Under-16's with Prince Henry's. Care's progress led to an invitation to join the Leeds Tykes Academy at the start of the 2003–04 season – a season which ended with Tykes winning the National Under-19 Colts Cup and Care being named as Tykes' Players' Young Player of the Year. At school level Care spent the season playing at fly-half and helped Prince Henry's to success in the Under-18 Yorkshire Cup and a famous victory at Twickenham in the final of the Daily Mail Under-18 Vase where he scored 13 points in an 18–11 win against St Columba's College from St Albans. The season finished with selection for the England Clubs Under-18's squad for the Four Nations Tournament held in Belfast where he played against Ireland, Scotland and Wales. He also received a late call up to the replacements' bench for England Under-19s against Ireland although he was not used.
Kyle Sinkler
Kyle Sinckler (born 30 March 1993) is an English rugby union player and is currently playing as a tighthead prop for Premiership Rugby side Harlequins. Sinckler has represented England at various age levels; U16, U18, U19 and U20 levels, and has played for the national team since 2016.Sinckler was born in Wandsworth, London, and began playing rugby from the age of eight. Sinckler states that it was his mother, Donna, who instigated his rugby career. According to Sinckler, he was a keen football player but his physical nature meant that it was not the game for him. After Donna became aware of Kyle's physicality on the football pitch, she took him to Battersea Ironsides RFC in Earlsfield, a long-established (1943) senior rugby club with a growing youth and junior section.Sinckler began his Harlequins career when Academy coach Collin Osborne saw him, aged 12, playing at one of his various positions, this time full back, against King's College School OB, Wimbledon, where his talent was immediately spotted. Sinckler graduated from the Harlequins Academy squad after playing his first game for the club in their 42–6 thrashing over Gloucester in round 2 of the 2011–12 Aviva Premiership although he only appeared for the last 5 minutes of the game. Sinckler only went on to play one more game for the Harlequins in that same season, coming off the bench against Sale Sharks during their 37–25 victory in the 2011–12 LV Cup. During this season, Kyle was sent to Richmond on loan, where he helped them to promotion to National League One. Sinckler then spent the whole of the following season playing at Harlequins where he made 7 appearances, all of which were from the bench. He played in various competitions, and made his Heineken Cup debut against Zebre, where Harlequins went on to win 53–5. Sinckler highly contributed to their 2012–13 LV Cup winning campaign, playing in four out of the six games, including the semi-final against Bath. Sinckler was sent to Ealing Trailfinders at the beginning of the 2013-14 Season, which was a short stint as he was recalled back to the Harlequins. Sinckler made his way into the match-day team, when Paul Doran-Jones sustained an injury early on in the season. He made his first appearance for the season during Harlequins 37-13 victory over Worcester Warriors. However, Sinckler did have to wait until mid-February to gain his first start for the team, which occurred against Gloucester in Round 15, a game Harlequins lost 25–20. A week later, Sinckler went on to play his first full game for the club, which Harlequins narrowly won, beating Worcester Warriors 21-20. In the same season, Kyle would go on to prove himself very capable, making 3 European appearances and playing a total of 22 games for the club, over double the games he had played for Harlequins previously. Sinckler even went on to start in Harlequins semi-final playoff game against Saracens, where Saracens won 31–17.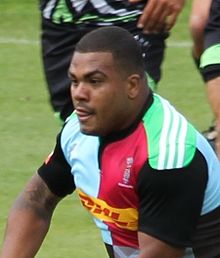 First thing
Second thing
Third thing
To learn more HTML/CSS, check out these tutorials!